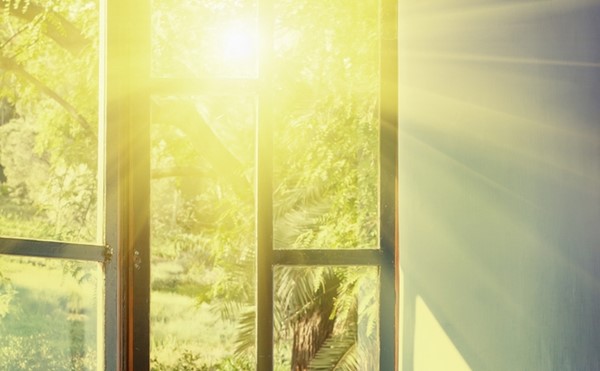 Have you ever put on a favorite outfit and the perfect makeup, then walked into a different room and just hated the effect? The same thing can happen with your paint choices. The play of light in your rooms can significantly affect how your color choices look. Natural light and artificial light reflecting around the room at different times of day creates a different visual dynamic. As you're preparing your house for sale, you want to keep that play of light in mind when choosing your paints.
Getting Started
It's probably been a long while but think back to prisms in grade school. Remember how each band of light in the rainbow reflects a light ray of a different length bouncing off of the water in the air? The same applies to paint. Your entire visual experience is determined by how the light reflects off the items around you, and how your eye interprets that light. Interpretation can be very different between people since humans have a wide variety of color blindness. As many as seven to ten percent of men are somewhat or entirely color blind in the red-green spectrum and an additional, those lesser, number of people are affected by blue-yellow color blindness. This color perception means that even without the changing light, a neutral color with a green or red undertone could appear different to different people. Combine that with the different light at different times of day or seasons and each person coming to view your home will have a different experience. 
Direction Matters
Throughout North America, the most consistent light both day- and year-round comes from southern exposure windows. That light will intensify whatever colors you choose, so pay attention. South-facing morning rooms and those where you want to be awake and active should have bright colors, while south-facing rooms where you want to relax or calm down at the end of the day should have calmer and cooler colors. Eastern exposure rooms will be brighter in the morning and darker in the evening, so you may want to complement that with blue or green undertones for balance. West-facing rooms will be the opposite: darker in the morning and brighter at night. For bedrooms especially, this can be important, since a warm color scheme can make it easier to get up and to go in the darker room. Afternoon sunshine has blue tones which can wash out your paint colors. That means stick to brighter choices with yellow undertones for rooms meant mostly for midday use. You can also complement, enhance or even override the natural light in a place by your artificial light choices. Keep the sun's light in mind when picking your bulb types and placement and watch what it does to your color choices throughout the day.
How to Choose?!
First, start by getting your color swatches. Visit your local paint, DIY, or home improvement store to get swatches in the colors and finishes that interest you. Get multiples so you can hang them up in different places along your walls to see how the light works with them. Check them through the day and with different artificial lights and window coverings to get the broadest idea of how the colors will look. Once you get down to just a couple of hues, get small samples of them and paint some swaths across the wall. Now, repeat the process of watching throughout the day and trying out different lighting as it will give you an even more in-depth understanding of how the colors will look. Once you make a choice, remember to use a primer to cover over your temporary swatches before doing the final paint job, or you could end up with sections that are slightly different colors.
Unsure about which colors are best for your home? Talk to your real estate professional about picking the right neutral tones to show your home at its best.